The Coaching Greenhouse: Where You Go to Grow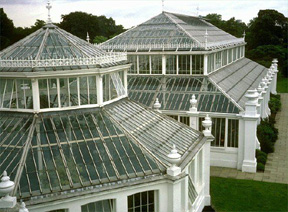 Webster's defines a greenhouse as:
greenhouse
n : a building with glass walls and roof; for the cultivation and exhibition of plants under controlled conditions
So what's a Coaching Greenhouse?
It's a place for coaches to come and grow.
It's also a Coaching R&D Team for my Greenhouse project.
We're working on some exciting and important new projects. First order of business is to find a way to help coaches get the practical experience they need.
What is the hardest part of being a solopreneur? What do you need to develop as a coach? Whatís the most valuable way to learn and practice coaching skills? We want to help, and you can assist us in doing that. Join our R&D team by sending an email to R&D@coachingtosuccess.com
Periodically, we'll email you a question, problem or idea. You may respond if you wish or simply delete the message. But even a couple of words could spark an idea that really works. The point is that we need and value your thoughts and opinions. Weíll collate all the wisdom shared by team members and develop resources and programs, which we will share with team members. You may choose to participate in the weekly calls, or not...your choice.
Some of the projects we are currently working on include:
- tools and learning paths that will simplify and accelerate the learning process for coaches
- developing an internship program for top-notch coaches who have great intuition and innate ability, but not much experience working with real clients
Additionally, you'll have the opportunity to participate in our pilot project live coaching practicum calls free of charge.
It's very likely that we'll be crafting intellectual property by weaving in some of the suggestions, feedback and content shared by team members. We will generally share the resources created via input from the R&D Team for free to R&D Team members, at least for a period of time. And, many of these projects/programs/e-books, etc., will be available commercially (meaning for a fee to the public). Legally, we will be the copyright holder/owner of this material. If you are not comfortable with this approach, please do not join the R&D Team at this time.
Want more reasons to play? See the the Benefits of Playing on an R&D Team below (from Coachville)

If you would enjoy collaborating and sharing your wisdom with other coaches, we invite you to join the R&D Team. If you're willing to play, simply send an email to R&D@CoachingToSuccess.com and we'll put you on the team! You may unsubscribe at any time.

What are the benefits of being on a Virtual R&D Team?
Keeps you energized and on the leading edge of creativity, thus enhancing your own creativity. Get to see things first - get the inside scoop by being close to the source.
Enhances your self-image as a creative thinker and professional.
Making a meaningful contribution to someone else's success and their profession.
Learn more about yourself, your ideas, and your own profession - and you get seriously engaged in your own learning process.
Learn how to create your own intellectual property.
Tap into the power and energy of a virtual mastermind of creative thinkers.
Teaches you to think on your feet and let go of perfectionism.
Understand the new paradigm of the creation cycle - fast, fast, fast!
Expand your awareness of cultural diversity by hearing feedback from an international team.
Be continuously stimulated by new thought.
Experience a sense of community unlike any other.
Increase your self-esteem by supporting others in reaching their goals.

3steptraining.com | coachville.com | licensed use only

Peaked your interest? Check out the blog. Join the R&D team. Email me for more information! donna@coachingtosuccess.com