Coaching to Success
Donna Steinhorn
Life and Business Coach
(732) 224-1237
Home

About Donna

About Coaching

Services and Fees

Workshops/Teleclasses
Life Makeover Group
The Coaching Greenhouse and R&D Team
Books

Resources

Programs/Assessments
Recommended Books

As a lifelong learner, I adore books...and these are a few of my favorites.

Life:

The Dark Side of the Light Chasers by Debbie Ford
Ingram Review:
Ford explains how individuals hide, deny, and reject their dark sides--and how, through stories and exercises, they can reconcile these impulses, finding the gifts they offer and reclaiming our wholeness once again.

It's Only Too Late If You Don't Start Now by Barbara Sher
by Barbara Sher
From the Publisher: Barbara Sher shows you how to rediscover the inspired, enthusiastic adventurer you wanted to be before you became the responsible adult you had to be. According to Sher, it's never too late to start over. In fact, midlife is the perfect time to do so, a time when dreams for the future and experiences of the past finally come together. "The second life," as Sher calls it, can be even better than the first.
Excuse Me, Your Life is Waiting : The Astonishing Power of Feelings
by Lynn Grabhorn

From AudioFile
The law of attraction puts whatever you think about into your life, so you have to be careful what you put in your mind and how you feel about it. The distinction between negative wants (I don't want to be poor) and positive wants (I want enough money to do what I want in life) is difficult for most people, but the author makes it abundantly clear with great personal examples and a lot of enthusiasm. We can choose how we frame things and thus control the vibrations we send out to the world.
Taming Your Gremlin : A Guide to Enjoying Yourself
by Richard David Carson, Novle Rogers (Illustrator)

There is a gremlin within you. He is the narrator in your head.He tells you who you are, and he defines and interprets your every experience. What he hates is simply being noticed. That's the first step to his taming.If you have a low tolerance for self-help books or they haven't worked for you, here is a more creative yet practical approach to solving life's problems.

Coach Yourself to Success
by Talane Miedaner
Career/Business:

The Portable Coach by Thomas Leonard
The Portable Coach : 28 Surefire Strategies for Business and Personal Success by Thomas J. Leonard,
How attractive are you? No, not your looks, but rather your ability to attract abundance into your life -- whether in the form of success at work, solid and rewarding friendships, blue-chip clients, higher income, richer life satisfaction, deeper relationships, or more opportunities for personal and professional growth.
Isn't it time you stopped grasping for success and started attracting it?

The E-Myth Revisited : Why Most Small Businesses Don't Work and What to Do About It by Michael E. Gerber
Amazon.com Audiobook Review
Michael Gerber's The E-Myth Revisited should be required listening for anyone thinking about starting a business or for those who have already taken that fateful step. The title refers to the author's belief that entrepreneurs--typically brimming with good but distracting ideas--make poor businesspeople. He establishes an incredibly organized and regimented plan, so that daily details are scripted, freeing the entrepreneur's mind to build the long-term success or failure of the business.
Negotiating Your Salary : How to Make $1000 a Minute
by Jack Chapman

Work Less, Make More
by Jennifer L. White

The Artist's Way at Work : Riding the Dragon
by Mark Bryan, Julia Cameron

Get Clients Now! : A 28-Day Marketing Program for Professionals and Consultants
by C. J. Hayden
Finances: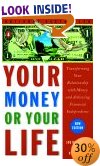 Your Money or Your Life : Transforming Your Relationship With Money and Achieving Financial Independence
by Joe Dominguez
Smart Couples Finish Rich : 9 Steps to Creating a Rich Future for You and Your Partner
by David Bach

Rich Dad, Poor Dad: What the Rich Teach Their Kids About Money--That the Poor and Middle Class Do Not!
by Robert T. Kiyosaki
Health: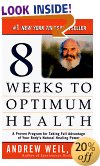 8 Weeks to Optimum Health
by Andrew Weil M.D.
The RealAge Diet: Make Yourself Younger With What You Eat
by Michael F. Roizen MD
Body for Life: 12 Weeks to Mental and Physical Strength
by Bill Phillip

Environment/Organizing: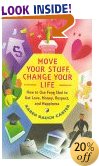 Move Your Stuff, Change Your Life: How to Use Feng Shui to Get Love, Money, Respect, and Happiness
by Karen Rauch Carter
Time Management from the Inside Out: The Foolproof System for Taking Control of Your Schedule and Your Life
by Julie Morgenstern

Organizing from the Inside Out: The Foolproof System for Organizing Your Home, Your Office, and Your Life
by Julie Morgenstern
Creativity: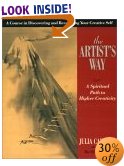 The Artist's Way : A Spiritual Path to Higher Creativity
by Julia Cameron

The Marshall Plan for Novel Writing : A 16-Step Program Guaranteed to Take You from Idea to Completed Manuscript
by Evan Marshall

How to Think Like Leonardo da Vinci: Seven Steps to Genius Every Day
by Michael J. Gelb